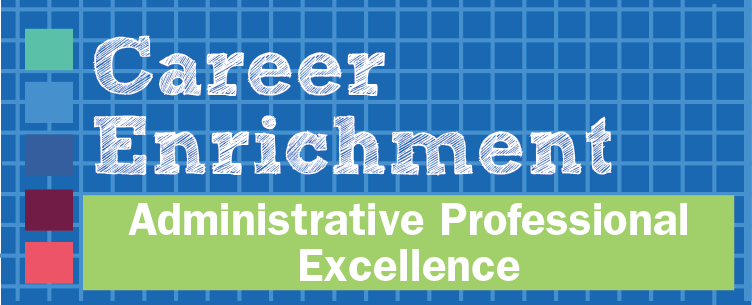 Goals
To provide a consistent set of expectations of administrative professionals at Lehigh to be successful in their role.
Courses
*Achieving Personal Effectiveness High-performing organizations have focused employees who effectively manage their work and are resilient in the face of everyday challenges. In this interactive workshop, you'll explore professional and personal skills to help you function at your very best. This includes how to focus on what's important in your daily activities and self-care skills to manage stress and demands. You'll also be provided time to identify and practice skills: how to set goals, prioritize, manage activities and time, communicate with people, and find meaning in your work each day.
Basic Budgeting and Accounting for Business Under Development
*Better Business Writing Writing is a key means of communicating and demonstrating professionalism on the job. This highly interactive one-day program is designed to help the business communicator improve writing skills. Topics include preparing and organizing ideas, understanding the needs of the reader, avoiding common grammar and spelling mistakes, and editing. Participants have the opportunity to create and edit their own documents.
*Effective Interactions In the workplace, effective interaction skills are critical to building strong relationships, engaging people, and solving problems. This one-day interactive workshop focuses on two core skills: listening and assertive communication. You will self-assess and practice skills, explore the power of listening effectively and being direct, and plan for productive ways to engage people and get results.
*Exceptional Customer Service Every interaction with a customer is a chance to provide exceptional customer service. When customers aren't satisfied with products or services, the costs to the organization are high. In this one-day interactive workshop, you'll explore strategies needed for customer service excellence, internally and externally. Emphasis is on identifying goals for your organization and job, how to defuse stressful interactions, and ways to provide the very best experience for every customer. 
Inclusion Insights: An expectation of all staff, Inclusion Insights is self-discovery about how our experience drives our assumptions. Develop awareness of our potential blind spots.
*Introduction to Project Management This exciting, one-day introductory program explores the basic skills necessary to become an effective project manager, including meeting management/leadership concepts. Working within the Project Life Cycle (Initiation, Planning, Execution, and Closure), you'll learn and apply tools that support successful execution.
*Problem-Solving Techniques Solving a problem is a process: Define the issue, sort symptoms from causes, generate ideas, make sound decisions, implement the solution, and monitor outcomes to ensure success. This one-day workshop provides a critical-thinking framework to approach problems and decisions in systematic and creative ways. Learn when to solve a problem on your own or benefit from group problem solving. In this interactive program, you will practice and identify practical ways to apply skills every day in the workplace.
Stress Management Under Development
*Programs offered by the Center for Business and Industry at Northampton Community College's Fowler Southside Center. To register, contact Mary Jo McNulty in Lehigh HR at 8-3984 or via email.
Additional Resources