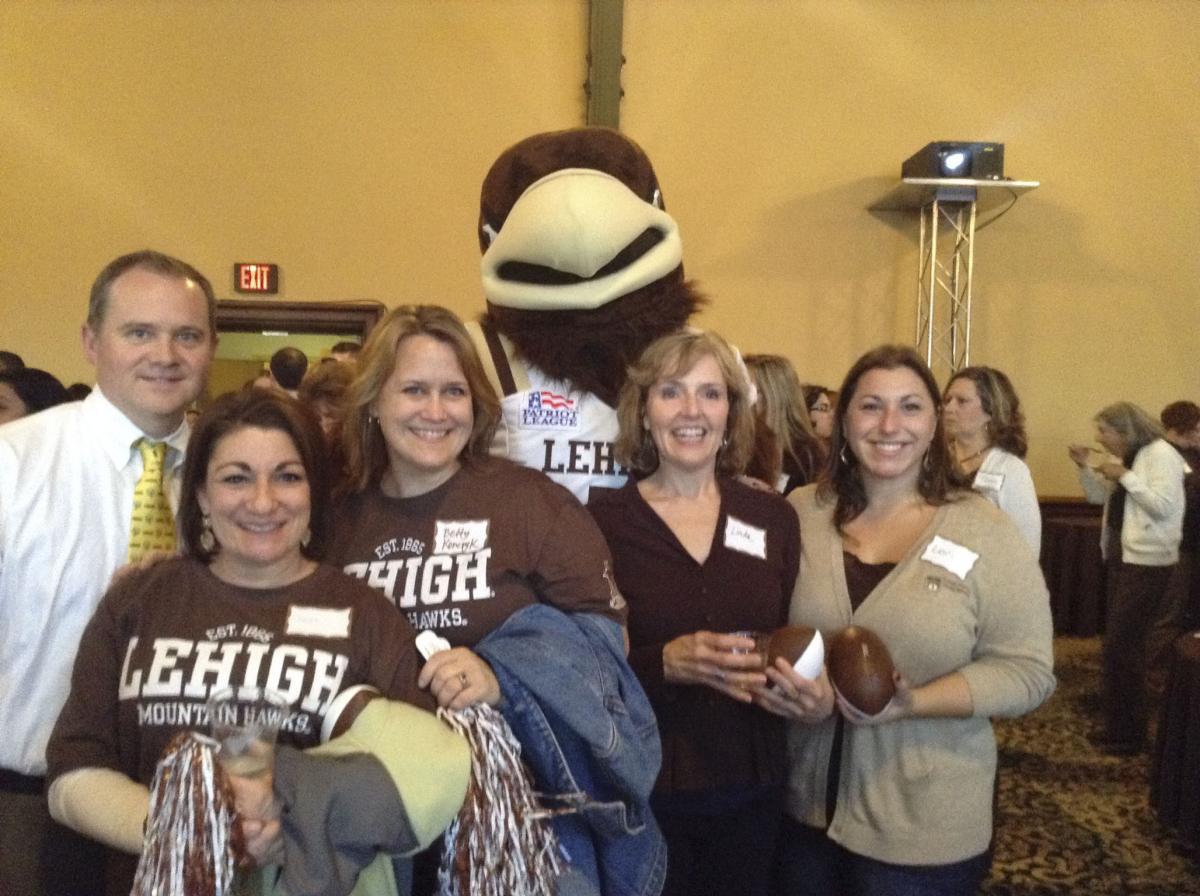 Joining a new employer often means having to learn a whole new vocabulary. Here are some of the most common abbreviations, acronyms, and terms that you'll encounter at Lehigh. There's also Lehigh Student Lingo that you might want to learn. 
Asa Packer = the university's founder; Asa Packer was an industrial pioneer, entrepreneur and philanthropist. In 1865, Packer, president of Lehigh Valley Railroad, presented a $500,000 gift to build a university that would contribute to the "intellectual and moral improvement" of men in the Lehigh Valley. It was the largest donation of its kind to any educational institution in America at that time. Visit his statue outside the Alumni Memorial building.

Banner = the university's enterprise database system that houses all sorts of business data including financial, employee, and student information

The Brown & White = Lehigh's student newspaper; published on Tuesdays and Fridays when classes are in session

CAS = College of Arts & Sciences; the largest of Lehigh's four colleges

CBE = College of Business & Economics

CEC = The Council for Equity & Community

Chapter = the local campus group of an international or national fraternity or sorority

CITL = an acronym for the Center for Innovation in Teaching and Learning, a relatively new department within Library & Technology Services

Clutch = The name bestowed upon the Lehigh Mountain Hawk mascot.  The name Clutch was created in November 2008, thirteen years after the Mountain Hawk became the school's first-ever athletics mascot. Prior to 1995, Lehigh athletic teams were known as the "Engineers."

COE = College of Education; the smallest of Lehigh's four colleges, the College of Education offers graduate programs only

Course Site = Lehigh's course management system. Although primarily used for course management, it can provide other services as well. Staff members can request administrative (non-academic) Course Site courses for temporary committees, job searches, departments, etc.

CPA = Communications & Public Affairs stem

DOS = Dean of Students Office(s)

DTR = Departmental Time Report; hours worked and time off reported on individual time sheets are summarized on a DTR and submitted to Payroll

Ed Pol = Education Policy or Education Policy Committee

The Epitome = annual student yearbook

ERAC = Employee Relations Advisory Committee

ESL = English as a Second Language

EWFM = refers to the E.W. Fairchild-Martindale Library and Computing Center; a single complex that looks and feels like two separate buildings execpt for the floor naming scheme

F&A = Finance & Administration stem

Farrington Square = named after former university president Greg Farrington, and previously known as Campus Square, this site is located on the north side of the Asa Packer Campus between Asa Drive and Morton Street. Farrington Square is home to the Lehigh University Bookstore, Johnny's Bagels & Deli, The Mail Center, The Cup (ice cream), and the Bethlehem Farmers' Market (May through October).

FCC = Faculty Compensation Committee

FFPOC = Faculty Financial Planning & Operations Committee

FML or Fair-Mart = E.W. Fairchild-Martindale Library, one of two libraries on campus operated by Library & Technology Services

Goodman Campus = located at the base of the other side of the mountain from the main Asa Packer campus, Goodman campus is home to Lehigh's athletic facilities, Transportation Services, and Building 125 (currently housing Communications & Public Affairs as well as some Advancement staff)

The Hill = Upper and Lower Sayre Park roads where a number of fraternity and sorority houses are located

HireTouch = refers to the applicant tracking system used by internal/external applicants and hiring managers for staff positions

HR = Human Resources, a department within the Finance & Administration stem

IDEAL = an acronym for the ID, Electronic Access, and Locksmith office, a relatively new combination of two previous departments

IFC = Interfraternity Council; the governing body of the fraternities on campus

LEED = stands for Leadership in Energy and Environmental Design; Lehigh's STEPS building was the first building on campus to earn LEED Gold status by the U.S. Green Building Council

LIN = a nine digit Lehigh Identification Number, used to identify individuals within Banner, the university's enterprise data system

LTS = Library & Technology Services stem

LUAG = Lehigh University Art Galleries; the main gallery and offices are located in the Zoellner Arts Center

LU-Alert = an emergency message notification system that sends mobile text alerts to student, faculty, and staff subscribers. Text messages are sent out in cases of imminent danger, or when an emergency situation will impact a significant number of people. Click here to subscribe.

LVAIC = stands for the Lehigh Valley Association of Independent Colleges; a consortium that consists of six schools: Cedar Crest College, DeSales University, Lafayette College, Lehigh University, Moravian College, and Muhlenburg College

MGC = Multicultural Greek Council; the governing body of the culturally-based fraternities and sororities on campus

Mountain Hawks = the official name of Lehigh's athletics teams

Mountaintop = refers to the Mountaintop campus; home to Ben Franklin TechVentures (a Lehigh affiliate), Iacocca Hall (named after our most famous alumus), Laboratories, Mailing & Printing, and other buildings

OFSA = Office of Fraternity & Sorority Affairs; this office oversees and guides Greek life at Lehigh

OneCard = a university-issued Wells Fargo VISA credit card for business purchases, including travel; cardholders reconcile their monthly charges via a secure Commercial Card Expense Reporting (CCER) system on the Wells Fargo Commercial Electronic Office (CEO) portal

PAN = Personal Action Notice; a document that is sent to Budget, Payroll, and the department, confirming a change in a position's salary grade and/or an individual's salary

Panhel = Panhellenic Council, the governing body of the sororities on campus

PD = Position Description. You can view and print your position through the PD Tool; look for the links within the HR Channel in the Employee Tab on the Campus Portal

POP or PoP = Professor of Practice, a non-tenure track faculty member

R25 = the university's room scheduler system for reserving facility spaces for events

RBC = Rauch Business Center, home to the College of Business & Economics and Student Career Services

RCEAS = P.C. Rossin College of Engineering & Applied Science

SOAR = stands for Successful Ongoing Administrative Relationships, an onboarding program specifically for administrative staff. Click here for more information.

Stem = term used to denote the major organizational divisions within the university

STEPS = a LEED certified "green" facility and programmatic initiative for science, technology, environment, policy, and society at Lehigh University. 

The U.C. = refers to the University Center, building 29 on campus maps. The U.C. is home to various Student Affairs offices as well as general meeting rooms. Student dining facilities are located on the first floor, a food court and other food options are on the second floor, and the Asa Packer Dining Room (primarily for faculty/staff) is located on the third floor.

Zimride = Lehigh University, in partnership with Zimride, offers students, faculty, and staff a private social ridesharing network. Zimride.com/lehigh makes sharing rides for drivers and passengers fun and easy! In seconds you can set up a profile, search for open seats, or post a ride of your own.