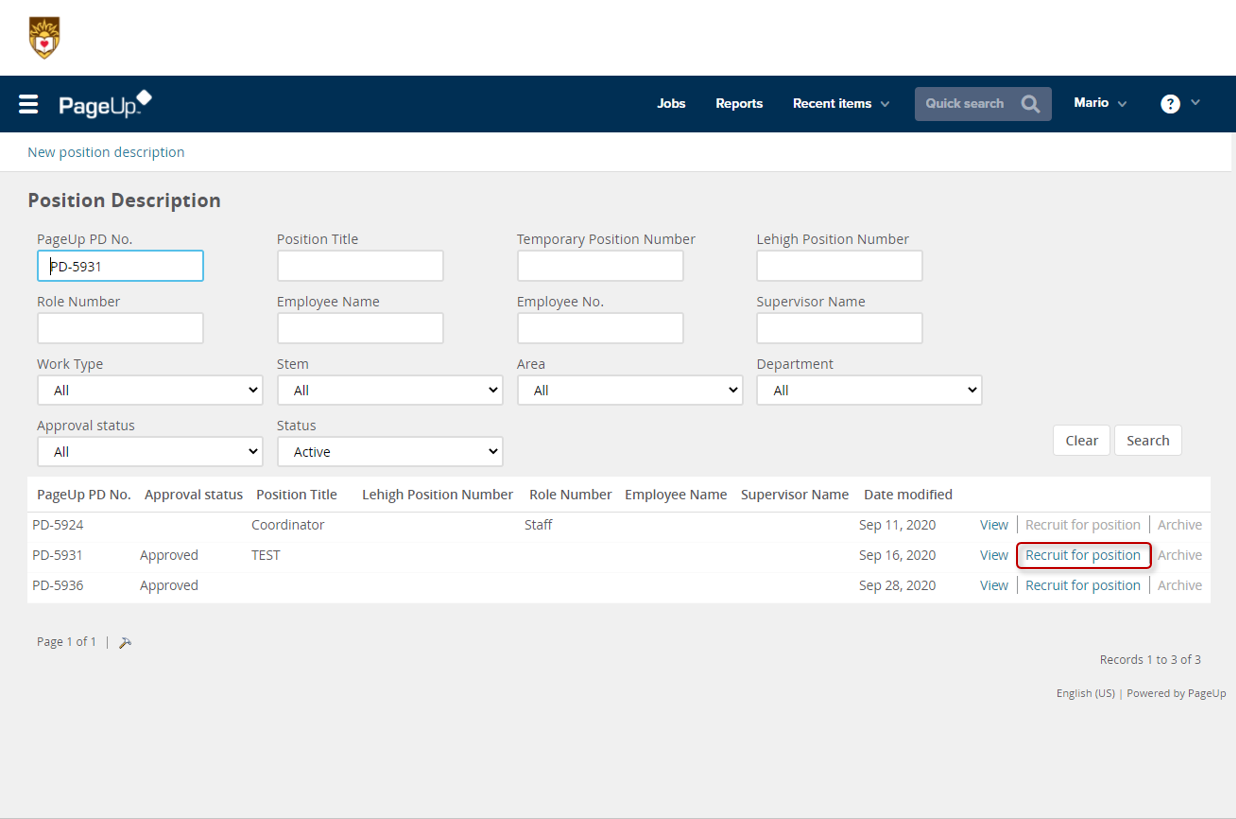 A search is needed when a position is vacated and a current employee will not be moved into the position.
Before Initiating the Search:
Review the vacant position description to ensure it accurately reflects the job. Visit this link for instructions on viewing Position Descriptions.

Discuss all staffing alternatives and options with your supervisor and/or financial manager

Be ready to actively engage with the hiring process within one to two weeks after the position is approved and posted. If this does not align with your timeline, do not submit the request.
Accessing the Position Description
Click the Administration link that's located under the blue Recruitment/Position Description heading

The Administration area of the system will open as a tiled dashboard in a new window

Click Manage Position Descriptions (on the first tile)

If needed, use one or more of the search fields to enter search criteria, then click Search

Search results will display 
If the position is vacant and has not undergone a Formal Review
Click Recruit for Position next to the appropriate position

Populate all required fields (marked with *)

If this is a new position:

Under the Headcount Management section:

Place the number 1 in the New box

Click Add more 

In Users and Approvals Section:
Select the appropriate area from the Approval Process drop down menu (e.g. LTS if the position is in LTS)

Approval process fields will populate automatically

Change Status to Pending Approval
Review all fields on the form for accuracy and ensure inemploy@lehigh.edu is listed in the HR Representative field

Click Save and Exit 

Note: Clicking Save and Exit will send email notifications to all individuals listed in the Users and Approvals section
If the position is newly created OR has recently undergone a Formal Review
Click Recruit for Position next to the appropriate position

Populate all required fields (marked with *)

In Users and Approvals Section:
Select the Re-evaluation or New Position and Recruitment from the Approval Process drop down menu
Review all fields on the form for accuracy

Click Save and Exit 

Note: Clicking Save and Exit will notify Human Resources to start the posting process